Top Photography Spots to Shoot Singapore Cityscape Photos
Are you a cityscape photography enthusiast travelling to Singapore and wondering where to take Singapore skyline photos? Then, check out my top six spots to take stunning Singapore skyline photos (and find out how to access those spots)!
Spot 1: Shoot from Esplanade Area
This is THE signature view that captures the essence of modern Singapore. Our iconic Merlion, mythical creature with a lion's head and a body of a fish, is located only 300 m across the footbridge in this photo.
ACCESS: There are a few MRT stations within walking distance, namely Raffles Place EW14 NS26, Esplanade CC3, and Promenade CC4 DT15. Promenade MRT Station is probably the easiest, which is about 1 km away on foot. Take Exit A and follow this directional map .
Spot 2: Shoot from Merlion Viewing Platform
Merlion is Singapore's no. 1 icon. This is where you can shoot Merlion with Singapore CBD as a backdrop. This platform is always crowded, but people come and go pretty quick, so it's not hard to secure a good shooting position just behind the railings.
ACCESS: You should be able to see Merlion spouting water from Spot 1 above.
Spot 3: Shoot from Gardens by the Bay East
This place is not well known even among locals and rather inconvenient to access, but definitely worth a visit. This is also one of the most relaxing places I've found in Singapore. Entry to Gardens by the Bay East is free.
ACCESS: Go to Stadium MRT Station CC6, take Exit A and turn left immediately to a bus stop located outside (bus stop code 80199). Take bus no. 11 (RED plate with "11 Rhu Cross" written in white, do not take a bus with white plate with "11 Lor 1 Geylang" written in red) and get off at Rhu Cross (bus stop code 90079, 5th stop).
This bus stop is located right after going around a small rotary (note that bus no. 11 is looping the route and doesn't terminate its service at Rhu Cross). Then, 10+ minutes walk by following this directional map .
If you're taking a taxi, ask a driver to go to "Gardens by the Bay East on Rhu Cross". Then, walk through the garden for a few minutes to reach this shooting spot along Marina Bay.
Spot 4: Shoot from SkyPark
Capture Singapore skyline from an elevated view point at open-air SkyPark that tops Marina Bay Sands Hotel. If you're shooting at twilight and dusk, note that tripods are not allowed. So, try bringing in a mini tripod like Gorillapod . No free entry unless you're a guest of Marina Bay Sands Hotel. For entry prices, check out Marina Bay Sands official website .
ACCESS: Bayfront MRT Station CE1 DT16 is directly connected to Marina Bay Sands Hotel. Follow the overhead sign that says "SkyPark" (Exit C). If you're taking a taxi, ask a driver to go to "Marina Bay Sands Hotel Tower 3". FYI, public entrance to SkyPark is located next to Porte Cochere area. From there, take an escalator down to box office on Basement 1.
Spot 5: Shoot from Singapore Flyer
Here at 165 meters tall Ferris wheel, you can have the bird's eye view of Singapore skyline, although shooting through a glass window of a rotating capsule poses you a challenge (e.g. you must always shoot handheld, even at night). For ticket prices, check out Singapore Flyer website .
ACCESS: Get off at Promenade MRT Station CC4 DT15. Go out from Exit A and you immediately see the giant Ferris wheels.
Spot 6: Shoot from Marina Barrage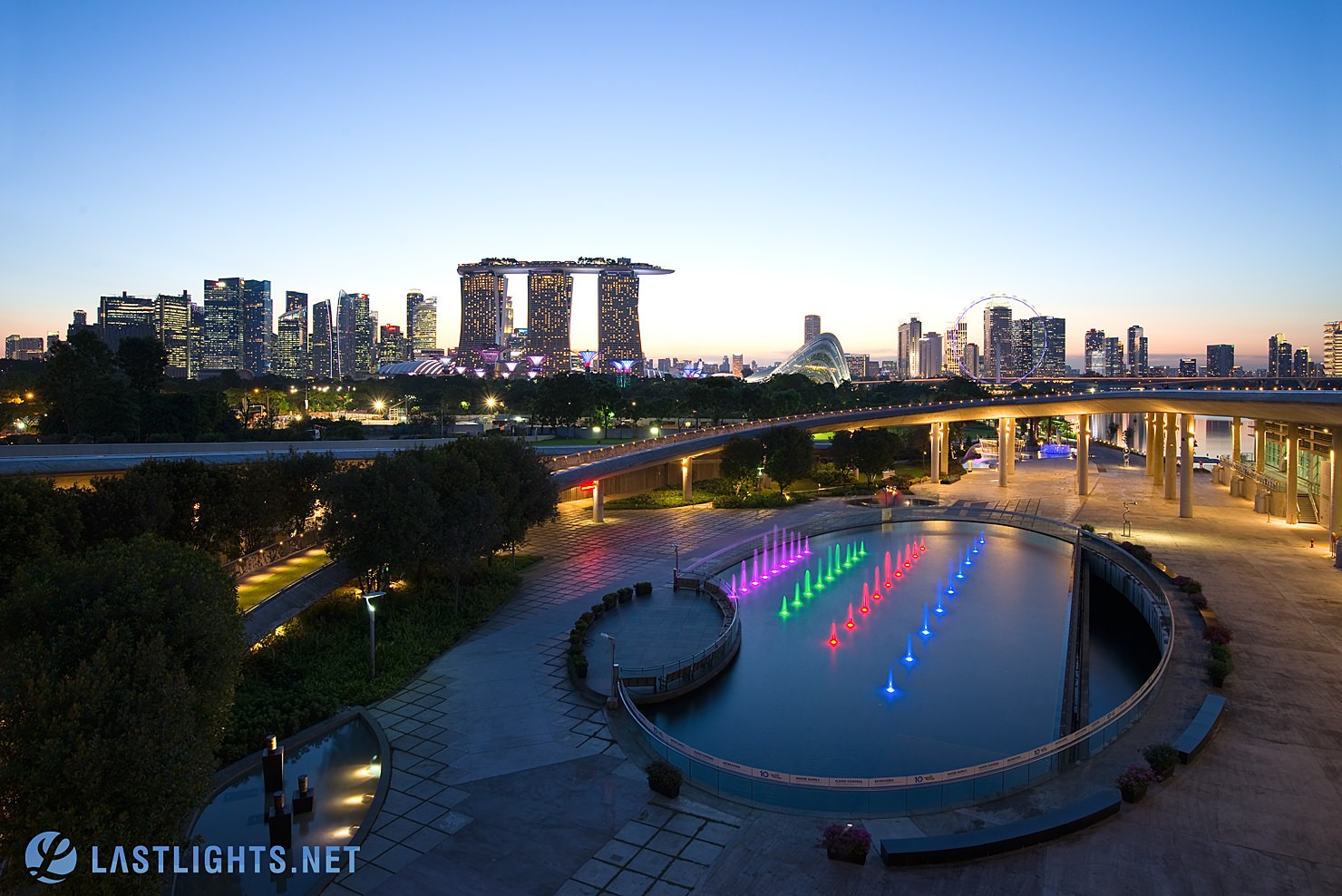 Marina Barrage is a large spiral-shaped dam that is also a popular spot for flying kites and picnics. To take this Singapore skyline view, walk up the spiral footpath to the rooftop green lawn.
ACCESS: There are a few MRT stations that you could use, but the easiest is probably Downtown MRT Station DT17. Take Exit C to come out to Straits View (street name), then walk 300 meters to the bus stop along Marina Boulevard (bus stop code 03391) and take bus no. 400 . Get off at Marina Barrage (bus stop code 03369, 4th stop).
Alternatively, if you don't mind walking long, enjoy the scenic view along Gardens by the Bay East via Spot 3, which takes about 30 minutes by following this directional map .
Ask Me Anything
I hope this list helps you decide where to shoot Singapore skyline photos. If you have any questions, feel free to ask me in the comments below. I won't hold anything back! You can also subscribe using the form below if you want to be notified  whenever I make a new post.
Subscribe to TPE Posts
This article was also published here.