Photography Goals for 2020
With 2019 being almost over, it has reached the time to discuss photography goals for 2020. This will be a collaboration post between myself and Joey of Last Lights.
Daniels 2020 Goals
I've managed to narrow it down to three areas I want to focus on for 2020.
Focus on Three Genres
Just like last year, I want to try limit the styles I shoot. I feel I'm somewhat moving away from the people side of street photography and had more of an interest with architecture. I have also been more into my still life photography this year and tried a different and more professional style like the image below.
I also said in 2019 I wanted to try portraits more. Sadly I didn't, so I have some projects in mind with this for 2020. To summarize, I'll be focusing on Urban, Still Life and Portrait photography.
A Change of Style
Whenever I shoot my urban landscapes, they are almost always long exposures. Although I do love to show motion in images, a few shorter exposure images I've taken this year I enjoyed just as much. An example of this is below:
With the image above, it was handheld and a single exposure. I really liked the lighting at this time of day and it's one of my favorites for the year so I'd like to take more like it in 2020.
Still Shoot for Fun
Although I do want to focus on improving my images, I also want to have fun with my camera. This means I won't only take what I consider to be more professional looking images, but also fun shots like the on below.
It's commonly believed that the more you do something the more you'll improve. I definitely agree with this which is why I want to try to get out there and use my camera as much as I can in 2020.
Joeys 2020 Goals
Let me share my goals for 2020 with you all! I'm not bringing in anything new, but will try to be consistent in my efforts to shoot and write, the very two things that I'm passionate about.
Release an eBook on Blue Hour Photography
I already have a free short eBook on the same topic on my website, but this will be an ultimate resource that shares all my experience and knowledge without holding anything back.
In fact, I set myself the same goal for the past few years, failure after failure due to my procrastination. I'm determined to make steady progress this year to finally see the light at the end of the tunnel. FYI, the blue hour photo below is my top favourite of 2019, photographed in Seoul, Korea.
Improve Coding (Web Development) Skills
This might sound irrelevant to photography, but it's an important part of my photography life, as my self-hosted WordPress-powered website is where I share all my photos and experience shooting cityscapes at blue hour.
The web technology is evolving very fast, and I want to keep myself up-to-date so that I'll be able to maintain and further develop my tiny home online for many more years to come!
Write Quality Blog Posts
This is what I try every year, but want to raise my standard. I take great pleasure in sharing my experience and empowering anyone starting with blue hour photography. This is why I've been consistently posting new blog posts on my website (seen below) over the years and want to continue this way for as long as possible until I'm no longer around.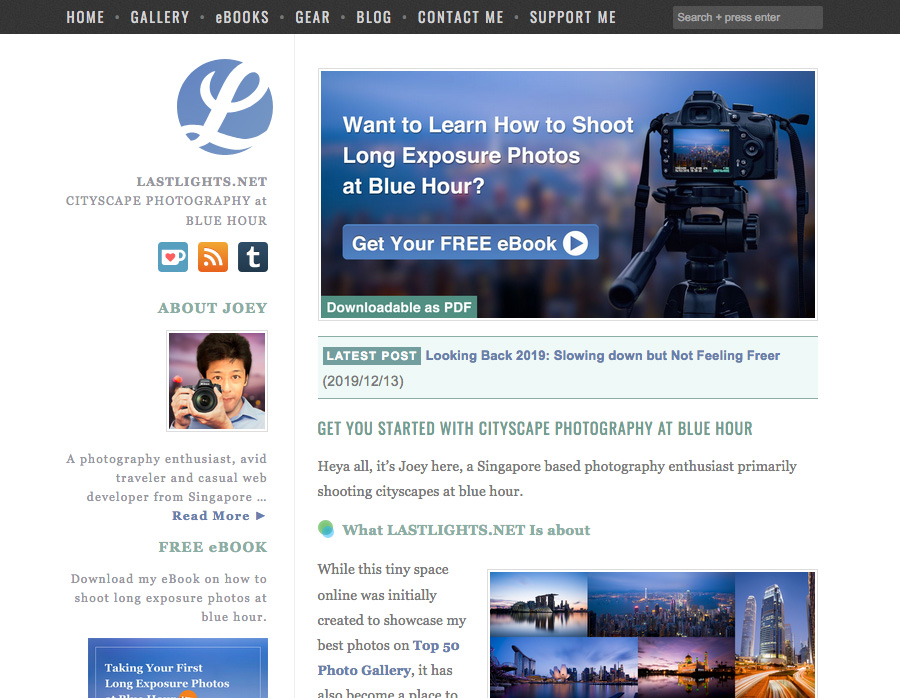 Other than that, I'll continue doing what I've been doing, i.e. taking cityscape photos at blue hour. Happy shooting and phenomenal 2020 to you!
About the author: Joey is a photography enthusiast and avid traveler based in Singapore. When he isn't out shooting blue hour cityscapes,  he is busy doing web design and development. You can find more of his work and writing on his Website, Tumblr, and Twitter.
If you have any questions make sure to leave a comment. You can also subscribe using the form below if you want to be notified  whenever I make a new post..
Subscribe to TPE Posts