My Hopes for the Future of Flickr
Although it's not as popular as it once was, Flickr is still my favorite photo sharing website.
It had already started its decline back in 2011 when I first begun photography but it was still more lively back then compared to how it is now. I know I'm making it sound like there's tumbleweed rolling across the screen with no photos at all, but this isn't the case.
Over the years I've made some good friends on Flickr who I still speak to regularly to this day. The website has some great qualities but even more room for improvement. Below you can read what I think Flickr needs to do in order to draw photographers back.
Fix Explore
The term "fix explore" has been thrown around now for quite some time. It's common knowledge that there is an algorithm behind explore, but how it works is a well kept secret.
The image below of Explore shows the top images of that particular day. The main issue is the remainder of the images aren't at the same caliber as the ones below.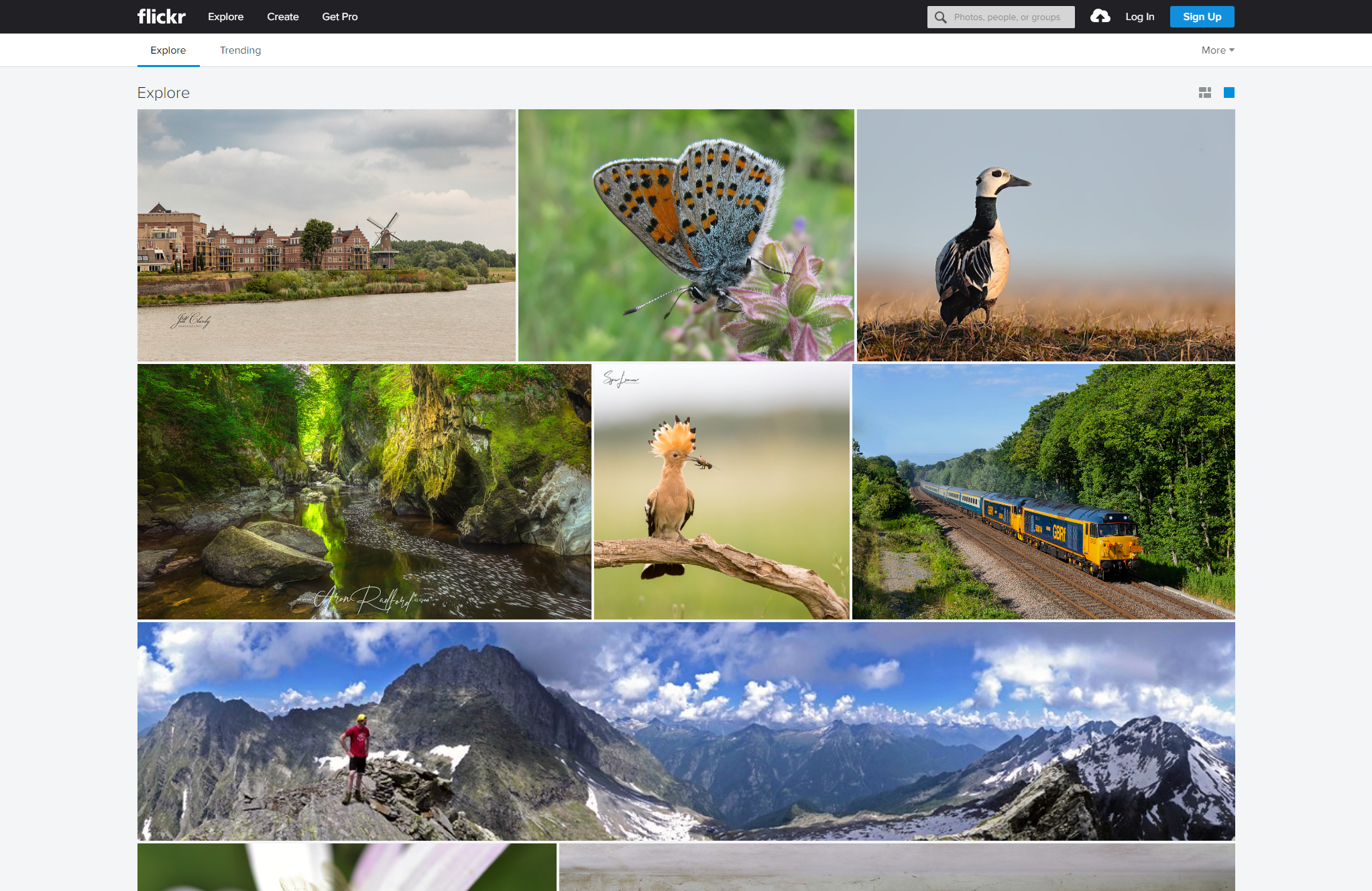 As Flickr have never really disclosed how the Explore algorithm works, it would be hard to comment on what they need to change about it.
It would be nice to see something like 500px's editors choice to be implemented into it. This human element would help to filter out the screenshots and non photography related images from Explore.
General and Small Improvements
The small details can often be overlooked but for people such as myself, these make the biggest difference. Here are 3 small features I'd love to see added to Flickr:
Two Factor Authentication
This was a security option when the site was part of Yahoo, but is no longer available. A decent two factor system such as a time limited code you can generate with an authentication app or a text message code would be welcomed. In terms of those such as myself who pay for Flickr Pro, I see this security feature as being a must and shouldn't be too difficult to add.
More pro features
With the price of Pro going up, I think the majority of people expect a significant amount of features to be added to justify the price. The already included discounts are good, but more site specific features would be better. I'd personally like to see an lens stats included. To be more specific, I'd like Flickr to be able to show you what lenses you use the most based on the EXIF of your uploads.
Also when someone starts a new Flickr account, their feed is often populated with recommended popular photos. It would be good if these popular photos were all from pro accounts to help these photographers in terms of exposure. As Flickr announced Pro uses will get priority for Explore once their revamp of the system is complete.
Something Crazy That Stands Out
Aside from the above changes, Flickr needs to do something more extreme to really help them differentiate themselves from other sites like 500px or Instagram.
It could be a risky move but I've always liked the idea of Flickr splitting into two. You could have the free and current version that people can use just as a photo storage site. The other part could be the Pro only area which is more targeted towards photographers.
The Pro part could allow for more customization of how your Photostream is displayed (such as a lights out/dark mode by default for anyone viewing it) and control over the grid layout. It's easy to speculate and make guesses, but what Flickr and Smugmug have up their sleeves is a mystery.
An Improved App
After the recent updates that finally rid us of the Yahoo login requirements, the app lost a useful feature. Previously you were able to have multiple accounts in the app you could switch between. This probably isn't a huge priority for most but I definitely feel like it is something that should be added back.
I'd also like to see more of the sharing options we get in desktop mode added to mobile. I often share my images on forums which requires BBCode to be able to post them. Currently the only option is to share by URL through the app which is definitely limited.
Last but not least, Flickr Mail. Once again I'm not sure how many utilize this feature but I for sure do. It can be hard to compose mail from the mobile version of the website and there is no option at all in the app. I think there should be a seamless experience across desktop and mobile and all the additions will help to make that happen.
Why Care still?
There are a few reasons that Flickr is still my favorite place to post photos. Here are the main ones
Images look better
One thing you'll notice when viewing images in sites like Instagram is they are overally compressed. This reduces the quality at which the images are displayed. I have been told some people prefer this as it makes images harder to steal. Fact is people will steal your images regardless of which resolution they are displayed in.
Like any website, Flickr does do some compression but nowhere near the same level as that of Instagram or Facebook. If you want the art you create to be displayed in its full resolution glory, Flickr is a great place to do so.
Groups
There was a time that groups were very lively and active. Sadly the engagement has definitely fallen off but there's no reason it can't be revived. Forums are always full of people seeking advice on which body or lens to buy, good locations to shoot and sharing their images.
Groups a great resource to get the information you need from people you know actually use that gear. People often chime in with their opinion which is usually unrelated to the question at hand. This would undoubtedly happen to some extent here too, but you could at least check out their images to verify they know what they are talking about.
Less of the spam
Although I haven't come across many, Flickr does have its own share of spam posters. What I don't experience is people providing a shallow comment with the goal of asking you to check out their page. That's where Flickr groups come in.
If pods or like for like arrangements are your thing, Flickr has groups you'll love. Although I personally don't use them, there are groups that work on the basis of you comment on someone's post in exchange for them posting on yours. Regardless of which site you use, I'm sure that you're experience would be somewhat similar in ways to mine. If you're sick of using Instagram, Facebook or others sites it may be worth giving Flickr a try.
Disclaimer: I am in no way affiliated with Flickr and this is not a sponsored post. I am simply a Flickr user who really enjoys the site and would like to see it return back to its glory days.
Have you tried Flickr? What new features would you like them to add? Make sure to leave  a comment and you would like to be notified every time there's a new post you can fill out the form below.
Subscribe to TPE Posts